Tater Tot Casserole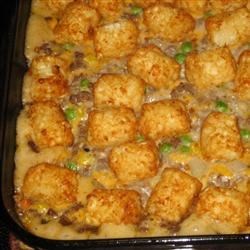 Ingredients:
1 pound ground beef (I used beef chuck $2.99/lb. see post HERE)
1 medium onion, chopped (I omitted)
1 (10.75 ounce) can Campbell's® Condensed Cream of Mushroom Soup (Regular or 98% Fat Free) -I used Cream of Chicken $.30 see post HERE
1 tablespoon ketchup--Can't find the post, but I paid like $.30/bottle of hunt's ketchup...there are 40 tbsp. in a bottle so one tablespoon would be like...less than a cent :-)
1 tablespoon Worcestershire sauce (French's $.19 - see HERE) There are 44 tbsp. in a bottle, so that's like...less than a cent :-)
3 cups frozen Tater Tots (I bought a 32 oz. bag, which is 4 cups, Great Value at WM the other day @ $1.82. That's $.46/ cup, so $1.37
My additions:
1 16 oz. bag frozen broccoli (FREE) see post HERE
Total=$4.67
Directions:
Cook beef and onion in 10-inch skillet over medium-high heat until beef is well browned, stirring to break up meat. Pour off fat.

Stir soup, ketchup and Worcestershire into skillet. Spoon beef mixture into 12x8-inch shallow baking dish. Arrange potatoes around edge of casserole. (I will cover the dish with the tater tots!)

Bake at 425 degrees F for 25 minutes or until potatoes are done.
Have a question?
Leave a comment below!